Tucson Property Management
Let Us Manage Your Rental Property
We offer a full range of property management services tailored to you as an investor, homeowner, or landlord. We have an extensive portfolio of single family homes, townhouses and condos in the Tucson, Oro Valley, Vail, Rita Ranch, Sahuarita, Marana, and Starr Valley area.
Now that you have purchased an investment property, you must decide how to manage it. This can be a particularly time-consuming and frustrating endeavor – even more so if you reside outside of Arizona. Our team at Arizona Metropolitan Property Realty and Management eliminates the headaches and handles everything associated with the upkeep of your investment including:
The Benefits of using Arizona Metropolitan Realty and Management
No hassle management
Owner statements
Online Owner Portal Access
Industry leading marketing tools
24/7 maintenance request handling
Prompt Response to Tenant Requests
Low vacancy rate
Industry specific local knowledge
What we do as your Tucson property manager:
Tenant Screening & Leasing

We conduct extensive screening on all tenants and handle everything from moving your qualified tenant into their new home, to rent collection, to maintenance issues.

Our aggressive leasing program is extremely effective in getting your property rented in a timely manner. And, we don't rent your property to just anyone. We pride ourselves on our extensive tenant screening and credit investigations process. All applicants must complete a detailed rental application and provide credit information and references before tenants are awarded the rental.

Marketing

Marketing your property is key to having successful rentals. We provide an expert market analysis for each property we manage to maximize your return on investment.

As part of our aggressive leasing program, we do extensive advertising and promotions to increase your property's visibility in the marketplace. Detailed rental signs are placed on and around your property. In addition, we list your property on our website, in the Tucson Multiple Listing Service and a number of other leading public websites which makes it accessible to both real estate professionals and the public.

Rent Collection

Rent collection is one of our primary property management functions and we make every effort to encourage tenants to pay on time, with late payment penalties and a variety of convenient payment options.

We make sure you get paid on time, every time. You no longer have to worry about rent showing up in your bank account because we take care of everything so you have to worry about nothing.

Inspection, Repairs and Maintenance

Protection and upkeep of your investment is of paramount importance to maintaining property value. We stay on top of your property to ensure it is kept in the best possible condition including:

Exterior and interior inspections
Routine checks on vacant properties
Scheduling of routine maintenance and emergency repairs
Follow-up on work performed

Financial Reporting – Accounting

With our detailed financial reporting tools, it's never been easier to keep tabs on your investment. Log into your owner portal to view statements and stay in tune with how your investment is performing.

Eviction Protection

In the unfortunate event that a tenant needs to be evicted from your rental, we will work with our attorney or yours and provide all the necessary documentation to obtain the eviction order and get your property back in safe hands.
Relocation Services
The Relocation Division features a team of experienced professionals committed to excellence, efficiency, high standards and a superior level of service. The primary focus of the Relocation Team is to coordinate the relocation process. The services we offer are a direct reflection of our genuine efforts to introduce and incorporate all area newcomers to our community.
Would you like a Free relocation package? If so Please Use the Contact Us link above and submit your information, once we receive it we will immediately send you out a free no obligation relocation package with information to assist you with your move.
Tucson Area Information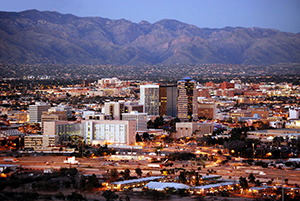 Tucson and the surrounding areas are the gems of the Southwest. With over 350+ days of sunshine a year, mountains in every direction, and photo worthy sunsets almost every day, everyone can enjoy something that this city has to offer. Those sunny days are imperative for the plethora of outdoor activities from biking, hiking, swimming, and golf, to grabbing a yummy cookie from the Cookie Cabin and hitting the slopes up on Mountain Lemmon. A quick Google search can reveal an abundance of accolades, the Travel Channel even said Tucson has "more bicycle infrastructure than any other city in the United States". Don't forget the top rated University of Arizona and the University Medical Center! If you find yourself longing for the beach, or wanting to visit one of the natural wonders of the world, San Diego, Mexico, and the Grand Canyon are just a few hour drive away. So whether you are athletic, artistic, an entrepreneur, Tucson has something for you!
Areas We Service
Arizona Metropolitan Realty and Management was started in Tucson, Arizona. However, as the city itself grew, we saw the need to expand our services to:
Vail
Sahuarita
Rita Ranch
Oro Valley
Marana
Starr Pass
Dove Mountain
Phoenix
Scottsdale
Glendale
Mesa
Wherever you may find yourself in Arizona, we are here to help.